Over the past three+ years, I've taken Amazon Photos Marketing Creative from a one-woman shop to a full in-house studio team.  
As Creative Lead for the Amazon Photos Marketing Design team, I managed a talented team of designers and own the creative for all work supporting marketing and brand initiatives.


I develop brand identity guidelines, templates, and processes. I lead the launch of new channels, develop creative strategy for our campaigns, research our customers experience, and facilitated workshops to explore the customer journey with our marketing team. I hire and develop designers, a copywriter, production artists, and managed agencies to grow our team, expand our ability to execute and scale our work. With insights from learnings, I redefine the creative approach as needed and collaborate with our marketing managers on upcoming opportunities for additional testing plans.
  
In short, I do a lot.  Below are some examples.
*Please note, several sections are still under construction. Check back regularly for updates.
Established creative intake request
& review process
Using a project management process and intake I developed and scaled to support our growing team, I oversaw the creative for all campaigns across onsite and offsite channels.
This included, but was not limited to web, printed assets, email, photoshoots, paid social, organic social, in-app marketing, and brand identity.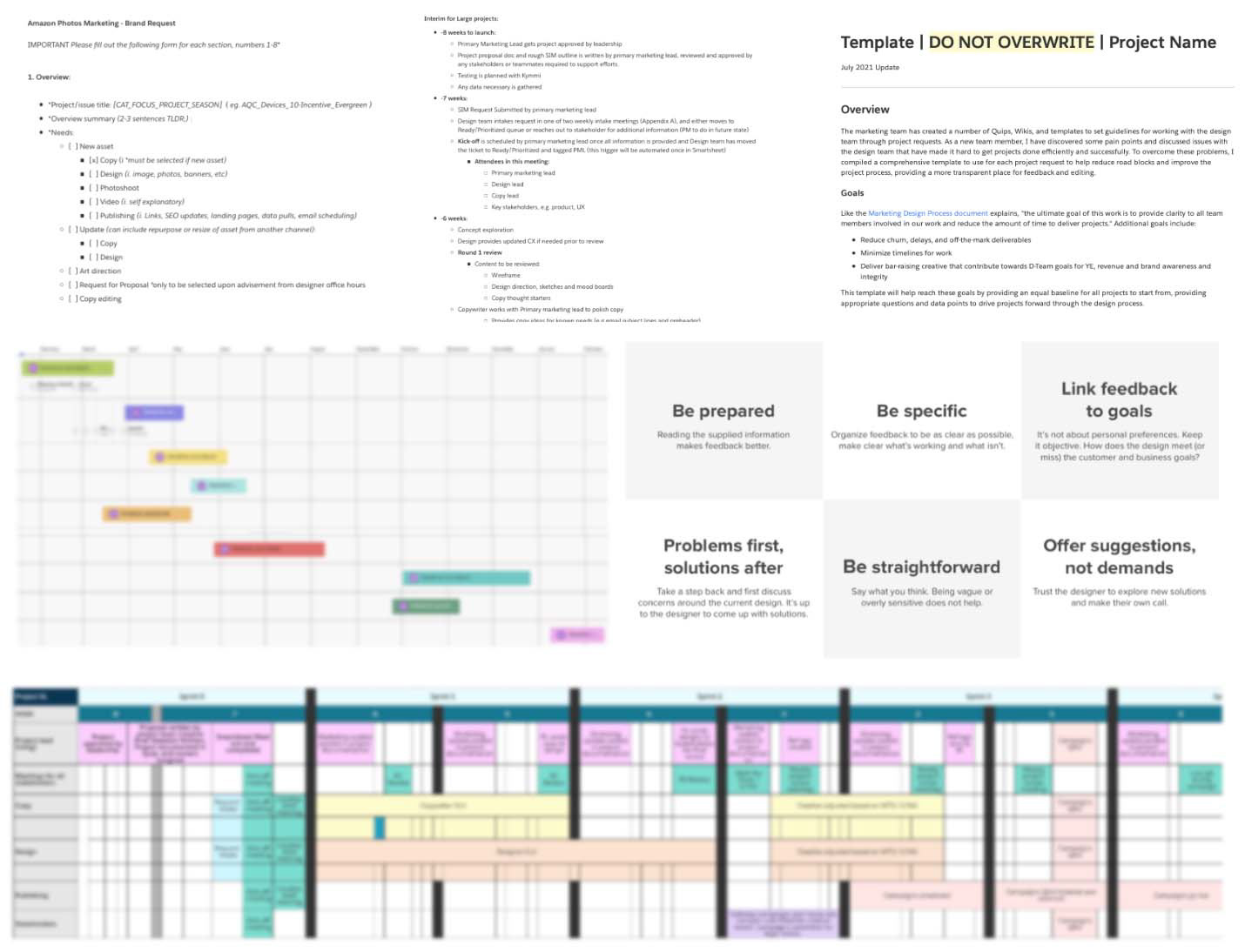 Brand identity, expanded expression,
& seasonal guidance
I organized and executed on continual campaign identity and vision work for seasonality and events. 
I mapped the work sprint schedules, to enable my team to
create templates to automate
a significant portion of our production workload,
allow ease of collaboration
cross-functionally, and
ensure cohesion
between our parent brand and Amazon Photos throughout the year.
Customer personas & journey mapping
I sourced research on our customers to create personas and gather feedback for data to improve messaging, and CX.  
I then lead workshops on customer journey mapping and personas to help the team deliver more customer-centric user flows. 
I document this work along with best practices based on lessons learned through testing and iteration to continually improve our process and the performance of our outputs.
Organic social launch & management
I owned the effort to launch our organic social presence across three platforms: Instagram, Facebook and Twitter. I researched the audience, created a calendar, produced all content, maintained engagement, and monitored audience.
Discovering and learning to use a new internal CMS tool, I drove the redesign of our owned web pages.

This section is currently under construction. Please come back soon for more on this project.
I designed for and art directed three separate campaigns for Prime Day, and worked with the UX team to create the in-app photo frame experience.
This section is currently under construction. Please come back soon for more on this project.
App refresh launch campaign
In November of 2021, Amazon Photos launched a major app update for our iOS and web apps.
To prepare for the launch, I conducted audits and competitive research before sourcing a set of imagery to display the new look and feel of our app. I updated our brand guides to incorporate an updated color palette which compliments our app, expanded logo options to account for the brand awareness in new marketplaces.
 Executing on production of my designs along with providing art direction to my junior designers, Christina Barton, Sami Everhart, we produced

over 520 unique visual assets

 to contribute to updates across our web pages, emails, paid advertising, organic social media, internal poster announcements, App store imagery, and press kits.
In addition to launching organic social and establishing a baseline for success, I also support our paid advertising efforts across social channels.
This section is currently under construction. Please come back soon.
If you'd like to hear more about these projects and others,  let's connect!
Drop me a message on
Linkedin
or send me an email using the form below.